Pedrollo CPm158
Available
Quality Booster Pump
The PEDROLLO CP range are non self-priming closed impeller pumps with integral motors. They are efficient, quiet and rated for continuous duty making them suitable for water boosting and transfer in a variety of domestic, industrial and agricultural applications. They are also particularly suited to automatic pressurised supply using either a surge tank or 'Presscontrol' unit.
Pump construction material is cast iron for the casing and brass alloy for impellers.
Pumps can be installed for manual or automatic control using either the unique 'Presscontrol' unit or a pressure tankand switch. Cpm 158 is available with the 'Hydrofresh' option combines a 24L horizontal diaphragm tank, pressureswitch and gauge with pressure settings of 1.8Bar for pump start and 3.2 ar for pump stop

MOTOR
Pumps are close coupled to a Pedrollo brushless TEFC induction motor designed for continuous operation. Single phase motors are provided with a thermal cutout in the windings to protect against electric and mechanical overload and can be connected directly to the mains power supply through a 10Amp fuse or MCB. Three phase motors require remote DOL starter protection according to local regulations.

Read More
Key Features
Read More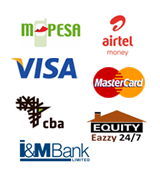 MPESA, Airtel Money, VISA & MasterCard

Delivery is within 0 - 2 days

Warranty - 24 Months